Family Travel Question:
Q | What are some fun things to do in San Francisco with kids?
I am traveling to San Francisco this summer with two kids (6 and 9). Alcatraz is on the list and we heard the Discovery Museum is also good. Can you suggest a few other things to do throughout the week? - Ali, Arizona
A | Family friendly San Francisco travel
Error: Unable to create directory wp-content/uploads/2018/01. Is its parent directory writable by the server?
San Francisco is most known for hilly streets, liberal politics, and iconic bridge, but it is actually a very family friendly metropolitan city travel. No trip to The City (as locals call it) with kids is complete without a day in Golden Gate Park. Besides the fun-filled playgrounds, including one with a beloved concrete slide, there are Japanese Gardens, paddle boats, and even a bison paddock!  The California Academy of Sciences is also located within the park and is a destination unto itself.  An aquarium, observatory, and rainforest are just some of exhibits visitors will encounter. Be sure to take time to explore the living roof and to say hi to the albino alligator.
Beyond Golden Gate Park, some of San Francisco's top things to do with kids include Fisherman's Wharf and Pier 39. Yes, they are touristy but they are a classic part of San Francisco and kids love walking along the pier, seeing street performers, and watching the famous sea lions. Grab some clam chowder in a San Francisco sourdough bread bowl and enjoy the people watching. Then be sure to head up to Ghiradelli Square for desert. The chocolate is delightful but the ice cream sundaes are out of this world.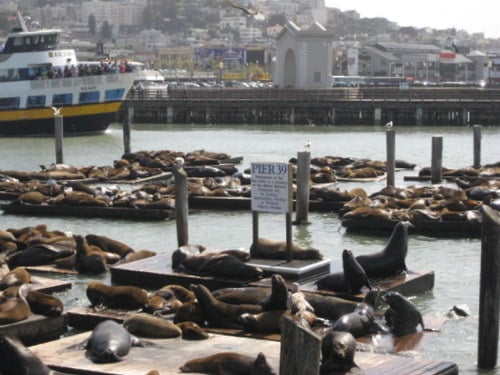 If your family is looking for some hands on educational fun be sure to explore the Exploratorium.  Play with magnetic sand, watch your shadow stick to the wall, step into a giant kaleidoscope, and enjoy hundred of other exhibits geared towards children but enjoyed thoroughly by all ages.
Photos courtesy of Sharlene Earnshaw.